What is a Green Amendment?
Green Amendments are self executing provisions added to the bill of rights section of a constitution that recognize and protect the rights of all people, including future generations, to pure water, clean air, a stable climate, and healthy environments.
---
What's Happening in West Virginia?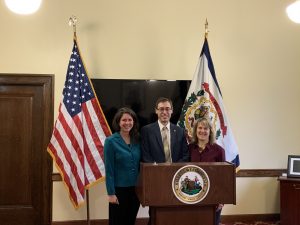 December 16, 2019 Delegate Evan Hansen, joined by over half a dozen West Virginia legislators, Green Amendment Founder Maya van Rossum, Tracy Danzey who has suffered serious health consequences due to environmental pollution and is inspiring communities to defend their environment, and West Virginia Rivers Coalition Executive Director Angie Rosser, announced that they would be re-introducing a West Virginia Green Amendment — to be named the West Virginia Environmental Rights Amendment – for the 2020 legislative session. You can view the press conference making the announcement here.
House Joint Resolution 25 was originally proposed February 11, 2019 and is modeled on Pennsylvania's Green Amendment. HJR, if passed, would add a right to pure water, clean air and a healthy environment to the Bill of Rights section of the W.Va. Constitution.
On February 11, 2021, Delegate Hansen re-introduced the Green Amendment, HJR 12, joined by co-sponsors: Del. Barbara Fleishauer, Del. John Doyle, Del. Kayla Young, Del. Danielle Walker, Del. John Williams, Del. Mike Pushkin, and Del. Jim Barach. HJR 12 has been referred to the House Agriculture and Natural Resources Committee followed by the House Judiciary Committee.
Check out our Frequently Asked Questions *Legislator Edition* on what a Green Amendment means for West Virginia.
---
West Virginian Delegates Sponsoring the Green Amendment
The primary sponsoring delegate is Evan Hansen. In 2019 he was joined by 31 cosponsors. Click here to see all sponsors.