SPOTLIGHT
Green Amendments For The Generations is proud to announce we have joined the 1% for the Planet community as an environmental partner in reminding us all that every day is an opportunity to take action for our planet.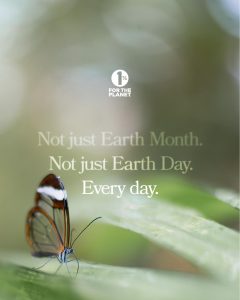 HELP GREEN AMENDMENTS WIN A SIZEABLE 1% for the Planet DONATION!
We Just Need You To Vote by the End of the Week!
GAFTG has been selected as one of three 1% for the Planet environmental partners to potentially receive a significant donation from Cult + King, leaving it up to the community to decide who should receive their Earth Day 1% for the Planet donation this year. They make personal products that are good for your body and the Earth. But for us to get this support you need to vote for us once a day (so still time for one vote today and once more on Friday, May 28th, before 2pm ET, here: bit.ly/CultKingVote
SAVE THE DATE — July 13 is National Green Amendment Day. Mark Your Calendar So You Can Be Ready to Join the Day's Events and Calls For Green Amendment Action.
Planning is already underway to lift up and highlight Green Amendment Champions from across the movement. We will soon be reaching out with opportunities to engage and help make this year's National Green Amendment Day one that inspires nationwide.
Rights of Nature & Green Amendments. What's the link?
We are often asked about how the Rights of Nature Movement and our Green Amendment movement intersect. Green Amendment Founder Maya van Rossum teamed up with Florida Right To Clean Water Leader Melissa Martin to explore the question. You can read their interesting explanation and exploration here.
---
NEWS FROM ACROSS THE MOVEMENT – A Few Highlights From Recent Months to Inspire
Hawaii
Having a Hawaii Green Amendment that protects the individual environmental rights of all Hawaiians, including future generations, will provide a powerful complement to the already impactful and protective constitutional trustee obligation of the state to protect its natural resources found in Article XI of the state constitution.
While the Hawaii Green Amendment did not advance all the way through the legislative process, it made significant progress.
The number of strong legislators in support continued to grow:
Senator Mike Gabbard was joined by Senator Stanley Chang as lead sponsor in the Senate. Senator Karl Rhoads also came to the fore as a powerful champion when, during a senate committee hearing, he eloquently challenged the Attorney General for being in opposition to this positive powerful tool for environmental protection and justice. (See Senator Rhoads' remarks here.)
Representative Amy Perrusso, lead legislative champion in the House, was joined by a strong coalition including Representatives Terez Amato, Cory Chun, Elle Cochran, Sonny Ganaden, Cedric Asuega Gates, Natalia Hussey-Burdick, Nicole Lowen, Lisa Marten, Rose Martinez, Mahina Poepoe, Adrian Tam, and Justin Woodson.
The number of leading organizations supporting the Hawaii Green Amendment also grew – increasing from 9 to 15 – including:
---
350 Hawaii
Climate Protectors Hawaii
Community Coalition Kauai
Environmental Caucus of the Democratic Party
Green Amendments for the Generation
Hawaii Alliance for Progressive Action
Hawaii Reef and Ocean Coalition
Hawaii Youth Climate Coalition

Independent Energy
Kauai Climate Action Coalition
Kauai Women's Caucus
Our Revolution Hawaii
Surfrider Foundation
Trinity United Methodist Church
Zero Waste Hawai'i Island
Zero Waste Kauai
---
The Hawaii Green Amendment passed through 3 legislative committees before a procedural step was used to halt the amendment's progress when a committee chair refused to schedule it for committee hearing and vote. But up until that moment the Hawaii Green Amendment was voted with strong support through 3 committees including the House Committee on Energy and Environmental Protection (vote count was 5 to 0 with 2 excused), the House Committee on Water and Land (vote count was 8 to 0), and the Senate Committee on Agriculture and Environment (vote count was 4 to 1). That is powerful progress!
Maine:
After an engaging and robust committee hearing, the Maine Pine Tree Amendment – that state's version of a Green Amendment – passed through the House Environment & Natural Resources Committee by a vote of 6 to 4. The amendment has moved on to the next step. Senator Rick Bennett & Representative Maggie O'Neill have been working closely with Maine Youth Action and Green Amendments For The Generations to make the case for how Maine's amendment will benefit present and future generations ecologically, economically and in terms of public health and safety.
Nevada:
While the Nevada Green Amendment was not put to a committee vote, just weeks after being proposed by Assemblywoman Sarah Peters, the amendment was quickly embraced as a priority by the Nevada Environmental Justice Coalition and was included in the first Environmental Justice Day ever organized for the state capitol, where it was a compelling focus of the NEJC training and press event. Shortly thereafter, the amendment was quickly scheduled for its first legislative hearing and received support from the majority of hearing testifiers, with those in support putting forth a powerful slate of testimony robustly making the case for constitutional Green Amendment protections.
Connecticut:
In Connecticut the Green Amendment proposal was also proposed for the first time this year and immediately started to get the support of a groundswell of grassroots activists and organizations. 28 organizations have already joined the movement which is being championed by an inspiring group of CT community activists including:
---
Branford Garden Club
Clean Water Action CT
Climate Reality Project, Southern CT Chapter
CT Alliance of Retired Americans
CT Climate Crisis Mobilization (C3M)
CT Alliance for Retired Americans
CT NOFA: The Northeast Organic Farming Association
CT Nurses United
Foodshed Network
Food and Water Watch
Green Amendments For The Generations
Green EcoWarriors
Green Party of CT
Hamden Alliance for Trees

Hampton Green Energy Committee
Hartford Monthly Meeting (Quakers)
Moms United in East Haven/Mamas Unidas en East Haven
New Haven Bioregional Group
No More Dirty Power in Killingly
Norwalk River Watershed Association
Pollinator Pathway
Portland Green Energy Task Force
PT Partners
Save the Sound
Seaside Sounds Club
Sierra Club CT
The Nature Conservancy in Connecticut
Windham-Willimantic NAACP Environmental Justice Committee
---
This past Earth Week, we had the privilege of touring the state and meeting with decision-makers, partners, organizers, and community members working to advance the Connecticut Green Amendment.
Tennessee:
This is also the first year for Tennessee's Green Amendment proposal put forth by Representative Justin Jones, one of the Tennessee 3 legislators who stood strong in defense of democracy and the need for strong state action to meaningfully address gun violence in the state. Tennessee's efforts are being led by Sunrise Nashville, a dedicated and inspiring group of youth activists vocal on many critical issues of social and environmental justice.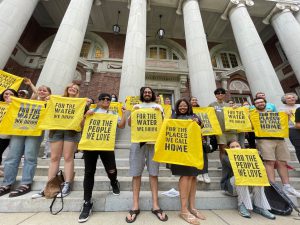 Montana:
As we shared last month, the Montana Green Amendment has helped to demonstrate the importance of constitutional language that meets Green Amendment criteria by providing essential foundation for Youth Climate Litigation to resist a motion to dismiss brought by the state so the case challenging the state's failure to fulfill its obligation to meaningfully address the climate crisis could proceed. You can read more about this successful case here.
---
Our Green Amendment Movement & Partnerships Need Your Support
Donations and grants provide the support and resources we need to help our Green Amendment Champions in the grassroots and the legislature.
In every one of our active Green Amendment states, we spread the message, advocate for the values of constitutional environmental protections, make phone calls, write letters, testify at hearings and work for change. And just when we start to wonder when we will see the transformational change that constitutional recognition brings, we make major progress and begin to see the beautiful rewards. Our New York victory is a perfect example.
After 4 years of hard work, in November 2021 the New York Green Amendment passed!
New York communities are now reaping the rewards of constitutional environmental rights protection.
For years, the town of Eastside NY was burdened by the dangerous emissions bursting forth from a neighboring landfill, and the lack of government action to protect them, regardless of their persistent advocacy and even legal action. But this year, they had the New York Green Amendment to help make their case for needed protection and change. While previously the government was well equipped to dismiss and ignore the community's plight, this year the community was able to bring the New York Green Amendment into court with them, and now they are being earnestly respected and heard, and protection seems clearly on the way. While in the years before the New York Green Amendment was passed the state regulatory agency felt empowered to ignore the protections this community needed, but the NY courts are now saying, no more: "…the State must ensure that its citizens have the right to clean air and a healthful environment."
To be able to provide the full array of support that each unique community and state needs requires time and resources. Donations are a cornerstone of our funding. Please consider making a donation today. You can do so with just a few clicks.
Or mail your donation to:
GAFTG
925 Canal Street, Suite 3701
Bristol, PA, 19007
Green Amendment Action App:
Through a new partnership with Big Heart Ventures, we now have the benefit of a Green Amendments For The Generations Action App – an all-in-one platform that supports active engagement and information-sharing from all facets of our community.
Join the app, on your computer tablet or phone, and help us build the movement.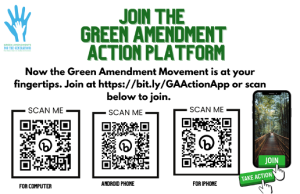 MINI GRANTS to Support Frontline Activists continues its open call for applications:
We want to remind you of our Green Amendments mini-grants program that can be used to support engagement in our Green Amendment movement.
The goal of the program is to provide accessible funding to support grassroots engagement in the Green Amendment movement. GAFTG will award grants up to $500 to cover expenses such as travel to participate in hearings or meetings, speaker honoraria, material or printing costs, technology, expert or legal fees, or other unanticipated expenses as appropriate. On a limited basis, requests for additional funding up to a maximum of $1,500 will be considered for special initiatives. This is a special grants initiative available for 2023, or as long as funds are available.
To learn more about the program and find the simple application that allows you to apply, go here: bit.ly/GreenAmendmentMiniGrantApp
---
News Spotlight
Pew Trust's Stateline did a well rounded story about how Green Amendments were advancing nationwide, including some of the challenges being faced in lead states. It's worth the 6 minutes to read: STATELINE: Some States Want to Give You a Constitutional Right to a Clean Environment.
---
Upcoming Events
Follow us on Facebook to stay updated on events across the nation! Schedule an event with Maya here.
New Horizons in Conservation Conference at Yale (Hybrid)
Friday, May 12, 2023
Omni New Haven Hotel at Yale
155 Temple St
New Haven, CT 06510
Here's The Story Film Showing at The Colonial Theatre
Sunday, May 21, 2023, 6:00pm
The Colonial Theatre (White Rabbit Theatre)
227 Bridge St
Phoenixville, PA
For more up to date information on our events, please visit https://forthegenerations.org/events/