"Given the recent Supreme Court decision limiting the ability of government to act on environmental protection, and confirming that only rights explicitly recognized in the constitution will be given judicial viability, the passage of Green Amendments is now more crucial than ever before."– Maya van Rossum, Founder of GAFTG
Spotlight: 2022 Green Amendment Day!
On July 13th, over one hundred environmental advocates from 23 states across the country gathered virtually to celebrate the Second Annual Green Amendment Day. Entitled "Green Amendments: Transforming Environmental Rights from Rhetoric to Reality," programming aimed to shine a light on how enforceable environmental rights, in the form of constitutional Green Amendments, can help frontline communities address toxic pollution, environmental racism, climate injustice, and air and water pollution harming their communities. In the spotlighted event of the evening, a few of our experts, Eric Jantz, Tracy Carluccio, Terrance Bankston, Todd Ommen, Kacy Manahan, and Kerri Evelyn-Harris, offered their unique perspectives and powerful words on what a Green Amendment could mean for our communities. You can view the Green Amendment Day Evening Panel here!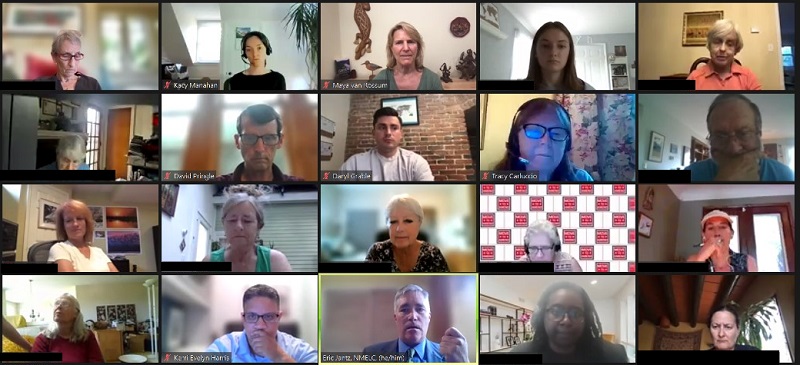 ---
News Across the Movement
Countdown to The Green Amendment, 2nd ed.!
The 2nd Edition of The Green Amendment: The People's Fight For a Clean, Safe, and Healthy Environment is almost here! Since the release of the first edition nearly five years ago, it's clear that the conversation has shifted. On the positive side, Maya doesn't have to spend time convincing any of us that climate change is real and the truth about environmental racism is finally garnering needed attention. Yet the situation for our environment, communities, public health and future generations is more dire than ever. Maya's book is here with solutions; to use our most powerful legal documents – our state and federal constitutions – to remedy the situation. Pre-order on Amazon now and stay tuned for book launch events as November 1st approaches!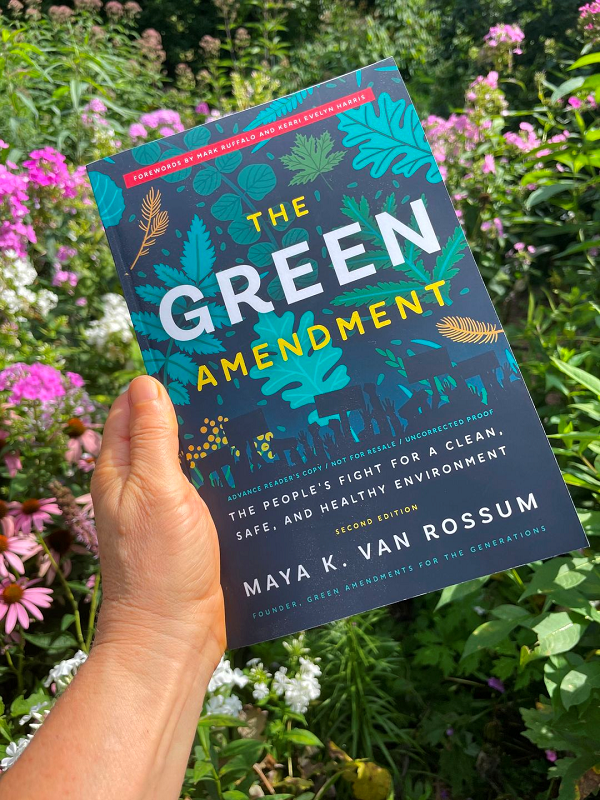 Breaking News on the Global Stage
On July 28, 2022, the United Nations General Assembly adopted a historic resolution declaring access to a clean, healthy, and sustainable environment a universal human right. Michelle Bachelet, the UN High Commissioner for Human Rights, hailed the Assembly's decision but pushed for more urgent action: "Today is a historic moment, but simply affirming our right to a healthy environment is not enough. The General Assembly resolution is very clear: States must implement their international commitments and scale up their efforts to realize it. We will all suffer much worse effects from environmental crises, if we do not work together to collectively avert them now." Such a huge victory follows months of mobilization by nongovernmental organizations, including our partner, Global Pact For the Environment. Read more about the UN's decision here and about the Global Pact Coalition's work here.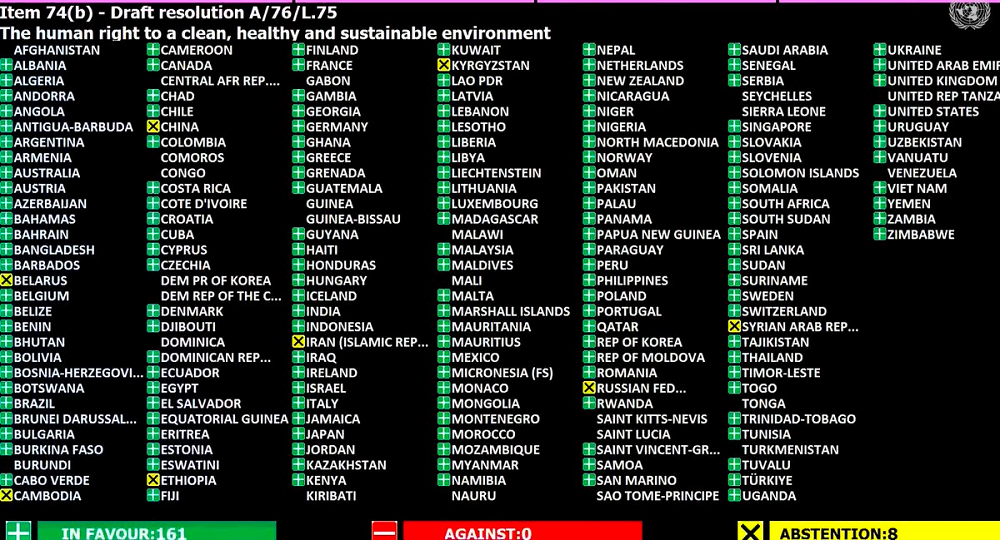 SCOTUS's Environmental Decision & How We Move Forward
On June 30, 2022 in the case of West Virginia v. Environmental Protection Agency, the Supreme Court of the United States (SCOTUS) went above and beyond with its judicial rule-making to undermine the authority of the United States Environmental Protection Agency (USEPA) to advance common-sense regulations that could limit climate-changing emissions to a meaningful degree. In so doing, SCOTUS has most certainly sentenced communities across our nation and future generations to the growing devastation of unchecked climate change – including the deadly wildfires, floods, drought, heat waves, hurricanes, human health harms, and severe economic losses wrought by a growing climate crisis. Until the dynamics of SCOTUS change, we are sure to be in for more devastating losses when it comes to fundamental freedoms, inalienable rights, and environmental protection.
So what are We The People to do if we care about the environment? The passage of constitutional Green Amendments–first in the states and then, when the time is right, at the federal level–will secure mandatory, enforceable environmental rights that cannot be ignored by legislators, governors, regulators, or the courts.
States need to sit up and take notice of this decision if they care about protecting our environment. Take action to advance a Green Amendment in your state now!
Delaware's First Hearing
On June 15 and 16, 2022 the Delaware Green Amendment was given its first hearing before the House Administration Committee. Residents from Delaware, as well as leaders from Sussex Health and Environmental Network (SHEN), the MidAtlantic Justice Coalition, Socially Responsible Agriculture Project (SRAP), Opportunity Knocks Delaware, the Delaware Riverkeeper Network and Green Amendments For The Generations all showed up to provide compelling testimony and expert analysis. You can view the hearings here: June 15 & June 16. A number of false arguments were raised against the proposed amendment which will be addressed by experts and supporters in the coming weeks and months. Ultimately the topic was tabled by the committee for future consideration, but we will be gearing up for success during the next legislative session.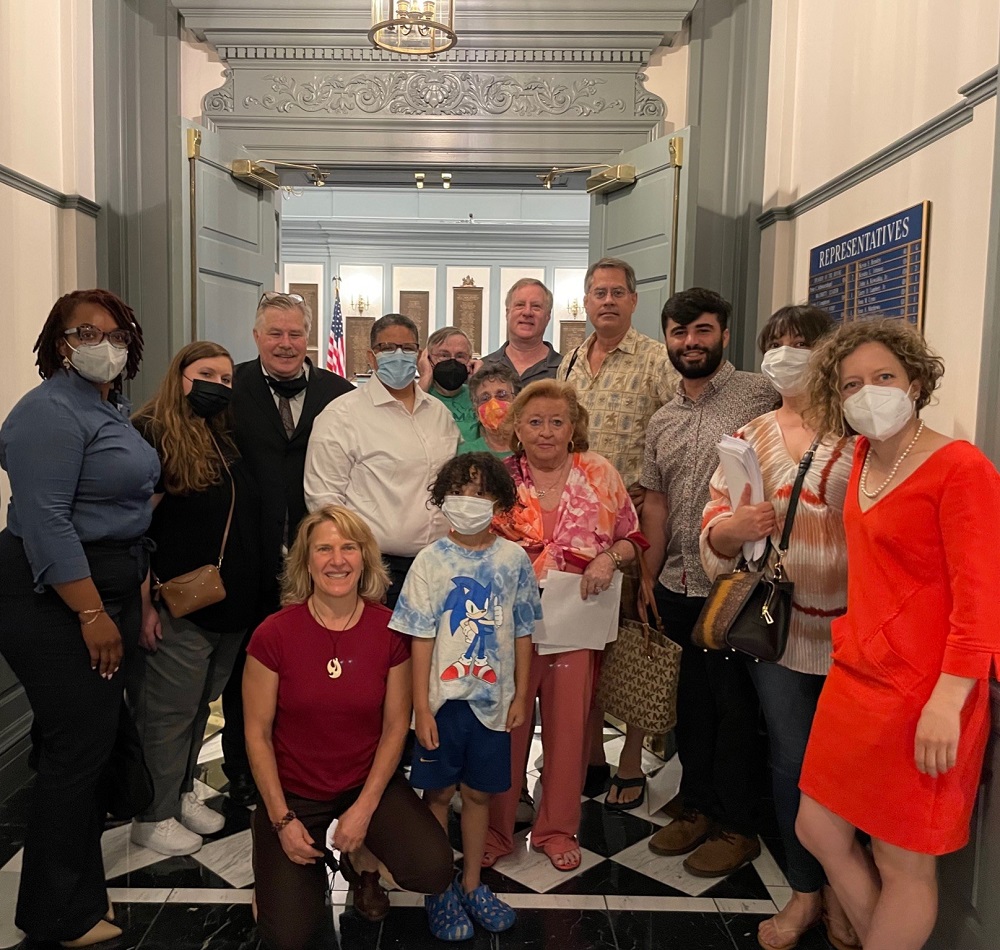 ---
Media
Hear Maya on A Sustainable Mind Podcast with Marjorie Alexander
Live on August 1
Enjoy the conversation between Maya and Marjorie Alexandar as they explore how a Green Amendment effects change in our communities and for our environment. A Sustainable Mind is a podcast created for the earth-conscious individual, ecopreneur, environmental activist, sustainability enthusiast, grassroots organizer, minimalist, conscious consumer and the eco-curious. Hosted by Marjorie Alexander, A Sustainable Mind features environmental changemakers whose campaigns, companies, and projects have changed the planet for the better, and leaves listeners with actionable advice and resources!
Hear Maya on the EnvironMental Podcast with Aubrey Wallace and Courtney Hume
Live on August 5
Listen to Maya as she talks with Aubrey Wallace and Courtney Hume about the Green Amendment movement, how to make your business more sustainable, and how to market your sustainable business better. The EnvironMental Podcast is a part of the Living Brand Directory and Dandelion Branding, marketing agencies that specialize in growing sustainable brands.
Catch up on Maya and Anneke's Green Genes Podcast
New episodes every Friday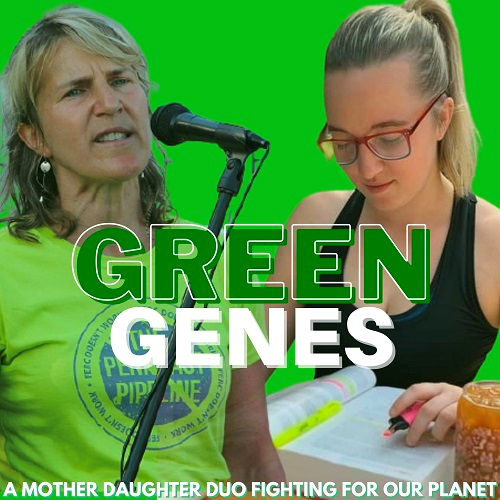 This month, Maya and Anneke discuss SCOTUS's EPA decision, greenwashing, Green Amendment Day, and more. Catch up now!
Episode 15 – Heat Waves – Hot Topics (Literally)
Once again the world is being hit by devastating heat waves that continue to worsen each year. On this episode Maya and Anneke talk about the failure of legislators to take meaningful climate action that we need now to prevent devastating events like this, and tips on how if you are struggling to deal with the heat – how to stay cool and safe.
Episode 14 – Green Amendment Day
Maya and Anneke celebrate the second annual Green Amendment Day and discuss how a Green Amendment is even more imperative in the wake of the recent SCOTUS decisions.
Episode 13 – Greenwashing – Hot Topics
Have you seen companies say their jeans are made from recycled plastics? Perhaps all of a sudden their orange label is now green? These are just a few of the ways that many companies employ the tactic of Greenwashing. But are they really as sustainable as they claim? Find out on this episode!
Episode 12 – SCOTUS's EPA Decision
This week our duo breaks down and discusses all that is wrong with the recent West Virginia v. EPA decision delivered by the Supreme Court. Hear from Maya, a seasoned attorney, and Anneke, a recent law school graduate, on their perspectives of all the ways SCOTUS got the law wrong.
Episode 11 – What in The Heck is a Gas Tax Holiday?
Would cutting down gas prices by 18 cents make a big difference to your bank account? Interestingly enough, if the government did this then the gas companies could simply price their gas at, you guessed it, 18 cents higher! Is there perhaps a better use the Biden administration could spend this money on? This week, Maya and Anneke discuss their grand idea on a better way we can all save money and the planet!
---
Upcoming Events
Rising Nation River Journey Treaty Signing and Celebration hosted by the Lenape Nation
August 12 @ 3:00 PM EDT
Sunbeam Lenape Park
1011_14_52
Frenchtown, NJ 08825
Join the Lenape Nation as they stop in Frenchtown for a treaty signing and community gathering during their Rising Nation River Journey.
Lenape Nation of PA drumming, speakers, children's games, and other activities will be part of the programming. Educational programs by Marion Kyde, author of Delaware River Scenic Byway: Wild and Scenic along the Delaware River; and Maya van Rossum, the Delaware Riverkeeper: Loving Our River – Take the Steps We Need to Individually and a Community. Presentations by Sarah Bursky, Natural Resource Specialist & River Manager for the NPS Wild and Scenic Rivers Program, and Amy Hollander from the Erwin Stover House.
Find more information about the Rising Nation River Journey here.
Follow us on Facebook to stay updated on events across the nation!
Schedule an event with Maya here
---
Headlines
In the Wake of SCOTUS Undermining the Environment, Here's How We the People Take Our Power Back | One Green Planet
Environmental Security Requires Green Amendments | Delaware State News
Maya K Van Rossum: 5 Things We Must Do To Inspire The Next Generation About Sustainability And The Environment | Authority Magazine
Early Suicide Warnings, Breastfeeding at Work and Environmental Advocacy | EHS Today
Implications for Industry as Supreme Court Curbs EPA's Authority | Engineering News-Record
Second Annual Green Amendment Day Tackles Environmental Injustice Through Collective Action | Press Release
Court Ruling Sentences Nation to Devastation of Unchecked Climate Change | Bucks County Herald
Regulatory Briefing: US Supreme Court Rulings on EPA's Authority, Abortion Rights | SustainableViews
Supreme Court Curtails EPA's Greenhouse Gas Regulatory Oversight | EHS Today
SCOTUS Undermines EPA on Climate – Press Statement Maya K. van Rossum | Press Statement
New Yorkers' Environmental Rights Are Under Attack | Bloomberg Law