"With the recent West Virginia v EPA decision, I'm worried about the Supreme Court gutting our federal agencies. I think it's important that the state step up, and [a Green Amendment] is one of the tools that we can use."

– Maya van Rossum, Founder of GAFTG, quoted in Popular Science
Spotlight: The Reviews Are In!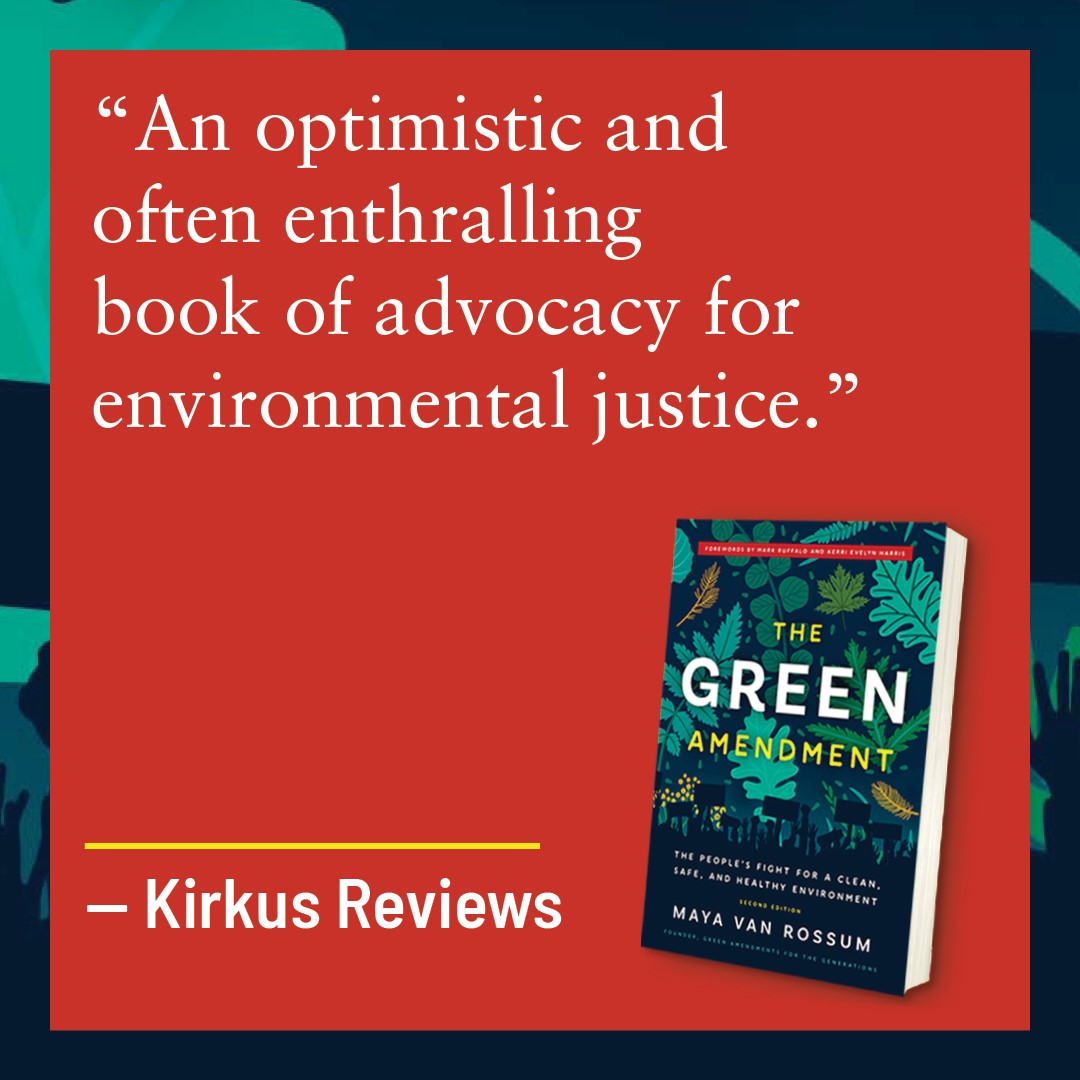 Acclaim is growing for The Green Amendment: The People's Fight For a Clean, Safe, and Healthy Environment. Kirkus Reviews has lauded author Maya van Rossum's ability to "expertly [balance] science, law, and an engaging narrative to convey an urgent need for reform." Be sure to check out the expanded second edition for yourself on November 1st. With new chapters and forewords by actor and activist Mark Ruffalo and Kerri Evelyn Harris, former candidate for the U.S. Senate from Delaware, you won't want to miss it.
From now until Friday, September 9th, Barnes and Noble is offering a special 25% OFF discount for preorders! Use code: PREORDER25 to redeem. You can also pre-order on Amazon or visit our website to explore other pre-order options, and stay tuned for upcoming book launch events next month!
---
News Across the Movement
Inflation Reduction Act Signed Into Law
On August 16, President Biden delivered on his promise to fight climate change by signing the Inflation Reduction Act into law, which analysts say will put the US on track to cut greenhouse gas emissions by 40% by 2030. The $369 billion in climate and energy provisions will be invested into low-carbon technologies and infrastructure, environmental justice initiatives, tax credits to promote the sale of electric vehicles, climate-conscious agricultural practices, drought resilience in western states, and more. However, the IRA also subsidizes the building of new pipelines, promotes further leasing for oil and gas drilling, and incentivizes investment in carbon capture use and sequestration (CCUS) technology, which allows heavily polluting fossil fuel facilities to continue business as usual. While monumental, the IRA contains contradictions and compromises that we cannot settle for. The passage of Green Amendments on the state, and eventually federal, level can help to fill the gaps in the legislation and more thoroughly protect the rights of all people to pure water, clean air, a stable climate, and healthy environments.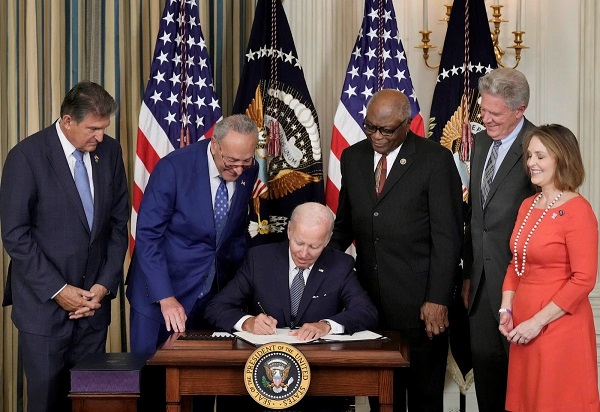 Green Amendments Support of the Lenape People's Treaty of Renewed Friendship
On August 12, the Green Amendments team was invited to attend the Rising Nation River Journey Treaty Signing and Celebration hosted by the Lenape People in Frenchtown, New Jersey. Every four years, the Lenape People take a historic three-week canoe journey down the Delaware River and re-sign the Treaty of Renewed Friendship alongside environmental groups, churches, historical societies, and individuals who support the Lenape people, language, and culture. Maya van Rossum was honored to be asked to sign the treaty on behalf of GAFTG and the Delaware Riverkeeper Network. Read more about the Lenape People at https://www.lenape-nation.org/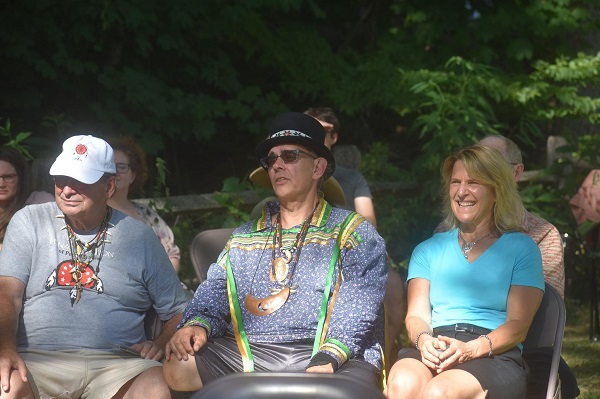 SCOTUS Decisions Underpin a Green Amendment Lesson
After the latest actions of the Supreme Court of the United States (SCOTUS) to overturn the 1973 Roe v. Wade decision and to undermine environmental rights in West Virginia v. Environmental Protection Agency, it has become abundantly clear that in order to be protected, rights must be explicit. To transform our current system and ensure essential environmental protection, environmental justice, and a safe future for all the generations who will inherit the earth, we need to raise up environmental rights to the highest constitutional standing at both the state and federal level. When it comes to environmental rights, the language and its constitutional placement must leave no room for doubt that these are self-executing, enforceable rights that belong to the people; and are not confined to the limited protections legislators may choose to provide. Anything less will leave our environment at the mercy of politics and the courts. Green Amendments, with their Bill of Rights placement and clear language protecting the rights of all people to clean water and air, a stable climate and healthy environments, are what we need. Read Maya's full take on how to take back our power from SCOTUS in her feature in Bloomberg Law and take action now!
New Jersey Green Amendment Press Conference Recap
In June, justice organizers, legislators, environmental leaders, and local residents gathered to urge the New Jersey state legislature to grant a hearing for the proposed New Jersey Green Amendment (ACR72/SCR15), which would constitutionally recognize and protect peoples' environmental rights in the state. Maya spoke alongside other state leaders, urging the state legislature to "give us a hearing, let us be heard, and take a vote!" Don't let the momentum die out take action now to advance the New Jersey Green Amendment!
Watch the whole press conference here!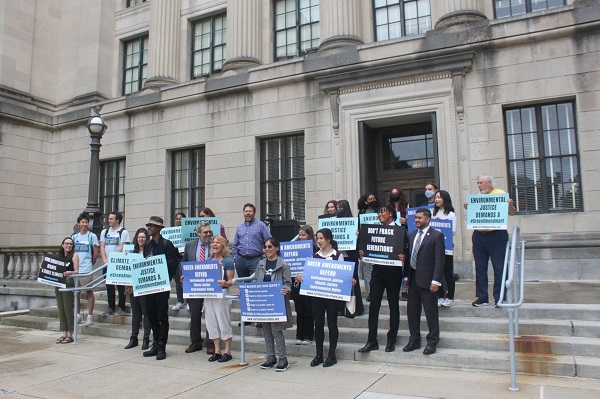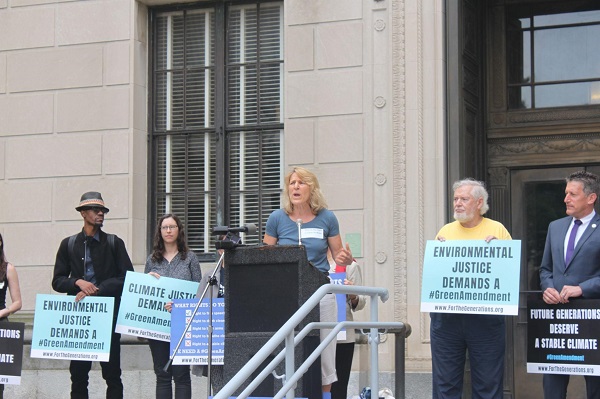 ---
Media
Hear Maya on the Climate Minute Podcast with Ted McIntyre
Live now on Soundcloud and PodBean
Enjoy this fresh conversation between Maya and grassroots activist Ted McIntyre about the Green Amendment Movement and how addressing climate change will take more than shifting laws but also the way that people perceive themselves in the world.
Hear Maya on the Climate 21 Podcast with Tom Raftery
Live now on Spotify, Apple Podcasts, Google Podcasts, Overcast, Amazon, & Stitcher
Interested in learning about the power of Green Amendments and how they can help address the climate crisis? Check out Maya's latest feature on Climate 21, a podcast that showcases best practices and thought leadership in greenhouse gas emissions reductions.
Hear Maya on Green Radio Hour with Jon Bowermaster
Live now on Radio Kingston
Listen in on Maya's conversation with writer and National Geographic filmmaker Jon Bowermaster as they discuss the Green Amendment Movement and the new stories of The Green Amendment: The People's Fight For a Clean, Safe, and Healthy Environment.
Hear Maya on the Care More Be Better Podcast with Corrina Bellizzi
Live this month on Spotify, Apple Podcasts, Google Podcasts, Stitcher, & Castro
Want to hear more about the 2nd edition of Maya's book and how the Green Amendment Movement relates to the recent passage of the Inflation Reduction Act? Tune in later this month to Care More Be Better, a podcast series developed to amplify the stories of inspired individuals, social entrepreneurs and conscious companies from around the globe who create a positive impact in their communities.
---
Upcoming Events
While September is a slower month for Green Amendment events, buckle your seatbelts for next month when Maya will kick off her book tour with lectures and events across the country! Stay tuned for more information.
Follow us on Facebook to stay updated on events across the nation!
Schedule an event with Maya here.
---
Headlines
Feeling the Heat? Don't Rush to Buy an Air Conditioning Unit Just Yet | Metro 50
'Green Amendments' Could Help States Lock In Environmental Protections | Popular Science
Here's How Bad Taylor Swift's And Other Celebs' Private Jet Emissions Really Are For The Environment | Buzzfeed News
Green Amendments Will Empower Environmental Protection | Bloomberg Law
New Jersey Student Activists Take Green Amendment Support to Trenton | Tap Into Hoboken
New Jersey Activists, Legislators, & Residents Gather to Urge Public Hearing on Amending the State Constitution to Grant Environmental Rights | Press Release