The Green Amendment, The People's Fight For a Clean, Safe & Healthy Environment
The 2nd Edition of The Green Amendment: The People's Fight For a Clean, Safe, and Healthy Environment has been receiving wonderful accolades and been the inspiration for a 12 day speakers tour across Florida, as well as events in New Jersey, Delaware, Hawaii, Texas, and Washington state, with more in person and online events on the way. After hearing Maya speak, one student felt compelled to find Maya's email and send her this heartwarming and inspiring message.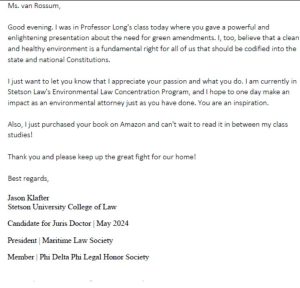 ---
DOUBLE SPOTLIGHT
Announcing the new Green Amendment Action APP & Green Amendment Mini-Grants Program – providing financial support to help local activists and organizations engage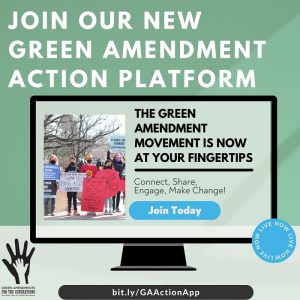 Hot News & Opportunity: Green Amendments For The Generations, through a generous collaboration with Powered by Action now has a new action app allowing you to get active and engage with the Green Amendment movement wherever you are.
Rapid mobilization of the Green Amendments movement requires GAFTG to activate, equip and empower We The People in every state to understand the importance of constitutional environmental rights and to collectively work together to advocate for the peoples' rights to a clean, safe and healthy environment. Attracting robust participation requires that our message not just resonate with each community but inspires and supports a sense of collective community engagement that ensures advocates and activists feel empowered to engage as messengers and leaders. Through a new partnership with Big Heart Ventures, we now have the benefit of a Green Amendments For The Generations white label app – an all-in-one, integrated communications network, and learning and community platform that supports active engagement from all facets of our community. Not only does this app allow us to have a community that is about what is happening nationwide, allowing us all to engage with, and learn from, what is happening in other states, but it also allows us to support state specific communities where leaders, supporters and volunteers can communicate and work together on their own state effort without the distraction of what is happening in other states.
The app is new and we at GAFTG are, to some degree, still learning ourselves about all of its powerful elements, and where some tweaking is needed to enhance its usability and strength. But it is up and running and ready for your participation.
Join the app here!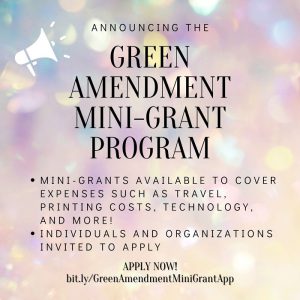 Mini Grants Announcement
GAFTG is pleased to announce a mini-grants program intended to support smaller grassroots organizations or individuals with limited funding in their effective participation to educate, advocate, and engage in support of any Green Amendment efforts advancing in their respective states. This is a special grants initiative available for 2023, or as long as funds are available.
GAFTG will award grants up to $500 to cover expenses such as travel to participate in hearings or meetings, speaker honoraria, material or printing costs, technology, expert or legal fees, or other unanticipated expenses as appropriate. On a limited basis, requests for additional funding up to a maximum of $1,500 will be considered for special initiatives.
The goal of the program is to provide an accessible and streamlined pathway to funding to support engagement in the Green Amendment movement, and to eliminate some of the common barriers to funding that small grassroots groups or individual activists often face in the philanthropic sphere. To learn more about the program and find the application, go here.
---
NEWS ACROSS THE MOVEMENT
Florida Green Amendment – Florida Right to Clean Water – tour a huge success.
Florida's Right To Clean Water Campaign – supported by an amazing collaboration of organizations from across the state – organized a statewide tour where Green Amendment Founder Maya van Rossum joined with Right To Clean Water leaders to talk about the importance of heightened constitutional protection for Florida's waterways and environments.
In 14 stops over 12 days, speaking with over 575 members of Florida's communities, Maya and Florida environmental leaders did a sweep of Florida sharing the Green Amendment message and how powerful the Florida Right To Clean Water – Florida's version of a Green Amendment – is for advancing this transformational movement in Florida while also inspiring communities in other states. The tour included: Pensacola, Fort Walton Beach, Tallahassee, Gainesville, New Smyrna Beach, Orlando, Cocoa, Vero Beach, Hollywood, & Fort Myers.
Key organizing partners included the Florida Right to Clean Water Campaign, Civic Media Center, Earth Ethics, the Florida Conservation Voters, Coastal Community Guardians, Collier County League of Women Voters, Climate Reality Group, Unitarian Church of New Smyrna Beach, Hello Again Books, Florida Networks, Environmental Learning Center, Indian River Neighborhood Association, County Commissioner Beam Furr, Stetson Law School, the Water School of Florida Gulf Coast University, and Barry University School of Law.
The Maine Pine Tree Amendment
Maine's version of a Green Amendment – was selected as a priority for the Environmental Priorities Coalition, the largest coalition in Maine for Climate Action. Be sure to join the new app and like us on social media to follow all of the exciting progress this winter, as the Green Amendment moves through various stages of the legislative process in Hawaii, New Mexico, Connecticut, and Maine.
The New Mexico Green Amendment has been filed and is on the move
The New Mexico Green Amendment was officially pre-filed on January 5. Community education and engagement efforts are advancing including a Get Up To Speed To Lead program to help activists take on the hard questions and respond to the misinformation campaign the industry opposition in the state – including the powerful oil & gas industry – are advancing.
Don't worry if you missed it, you can view a recording of the program here.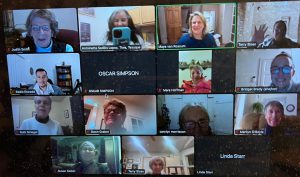 Photo taken of training session by Senator Antoinette Sedillo Lopez
ICYMI: First Decision Applying New York's Green Amendment Already Demonstrating Its Value & Setting Strong Precedent.
On December 7, 2022, in Fresh Air For The Eastside v. the State of New York, et. al, the Supreme Court of New York, the trial court level in New York State, issued the first decision based on the New York Green Amendment since it was added to the state's constitutional Bill of Rights. In this ruling, the Court offered important points clarifying the meaning of the amendment.
The case was brought by neighbors of a landfill. The legal arguments focused on emissions from the landfill, including greenhouse gas and noxious odor emissions, and challenged the state environmental agency's failure to prevent a violation of the Green Amendment, the constitutional right to clean water and air, and a healthful environment, of neighbors to the landfill.
In its decision refusing the state's request that the action be dismissed, the court made a few critical legal determinations regarding New Yorker's newly secured environmental rights. According to the Court's decision:
The New York Green Amendment is self-executing and requires no additional legislation to be enforceable.
The New York Green Amendment is enforceable against government action and not intended to be used in direct actions against private parties.
The New York Green Amendment is enforceable against government action and omissions/inaction when they result in a constitutional environmental rights violation.
Filing with the court to make a claim of a constitutional violation of Article 1 Section 19 and the environmental rights it protects is appropriate, and plaintiffs are not required to exhaust administrative remedies before invoking the court's jurisdiction.
It is appropriate for a court to grant declaratory relief (i.e. a judgment that constitutional rights have been violated and must be remedied) in response to a claim that constitutional environmental rights recognized in Article 1 Section 19 (i.e. the New York Green Amendment) have been violated.
"Complying with the constitution is not optional for state agencies."
The state lacks discretion to violate the Constitution, thus the court has the ability to compel the state to comply with the New York Green Amendment when a violation has been found.
Notably, the court characterized the New York amendment as a Green Amendment, a term coined in the 2017 book titled The Green Amendment, which identifies the criteria necessary for giving environmental rights highest constitutional protection and standing. The book was authored by Green Amendments founder, Maya van Rossum, who also joined as a leader in securing Article 1 Section 19, passed in 2021, that ensures the right of all New Yorkers to clean water and air, and a healthful environment – i.e. the New York's Green Amendment.
"This decision demonstrates the power and importance of recognizing the inalienable rights of all New Yorkers to clean water and air, and a healthful environment. But for the constitutionally recognized right, the Eastside community would appear to have no remedy for being overwhelmed by the air contamination emanating from the landfill, including the knowledge that greenhouse gas emissions released from the landfill were contributing to the climate crisis and the very direct and real ramifications climate change is inflicting on New York communities," stated Maya van Rossum. "This victory is also demonstrating how Green Amendments can be helpful for environmental protection nationwide."
ICYMI: Experts Help New Yorkers Get Up To Speed on their NY Green Amendment
Green Amendments For The Generations teamed up with our lead partners in New York state to hold a training on how the newly passed NY Green Amendment could be used to advance environmental protection and environmental justice. In a Q&A style discussion led by Kate Kurera of Environmental Advocates For New York, Green Amendments Founder Maya van Rossum, Anthony Rogers-Wright of NYLPI, Professor Rebecca Bratspies of CUNY School of Law, and Michael Youhana of Earthjustice highlighted the unique elements of New York's Green Amendment language, how it interacts with existing law, and how it can help address loopholes and deficiencies in the law. The values of the amendment for both activism and litigation were explored.
Don't worry if you missed it, you can view a recording of the program here.

---
HEADLINES/PRESS LINKS
---
Upcoming Events
"Green Amendment: What it Is & What it Isn't", hosted by Retake our Democracy
ft. Maya van Rossum, Mark L. Freed, Todd D. Ommen
Thursday, February 2, 6:00-7:30pm MT
Register | Information
Discussion with Maya van Rossum hosted by the Green Justice Team
Sunday, February 5, 10:30 am MT
First Congregational Unitarian Church of Christ
2801 Lomas Blvd NE
Albuquerque, NM 87106
Information
"The Green Amendment Movement as a Path to Environmental Health" hosted by Upper Mississippi River Initiative of the Izaak Walton League of America
Tuesday, February 14, 7:00 pm CT
Register | Information
Pine Tree Amendment Testimony Workshop, hosted by Maine Youth Action and Maine Youth for Climate Justice
Thursday, February 16, 4:00 pm ET
Information
Panel Discussion at the Collected Works Bookstore (Hybrid)
ft. Maya van Rossum, Senator Antoinette Sedillo Lopez, Representative Joanne Ferrary, and Representative Tara Lujan
Thursday, February 16, 6:00pm MT
Collected Works Bookstore
202 Galisteo St
Santa Fe, NM 87501
Register | Information
RESET Conversations: The Green Amendment with Maya van Rossum, hosted by Florida RESET
Tuesday, February 21, 6:00pm ET
Register | Information
For more up to date information on our events, please visit https://forthegenerations.org/events/