"Right now, across the state there are families that are dealing with water coming through the pipes in their house that they can't drink… I think it's past time we get a bill like this passed."

– Rep. Madinah Wilson-Anton (Delaware, DE Green Amendment Primary Sponsor )
Spotlight: The NJ Press Conference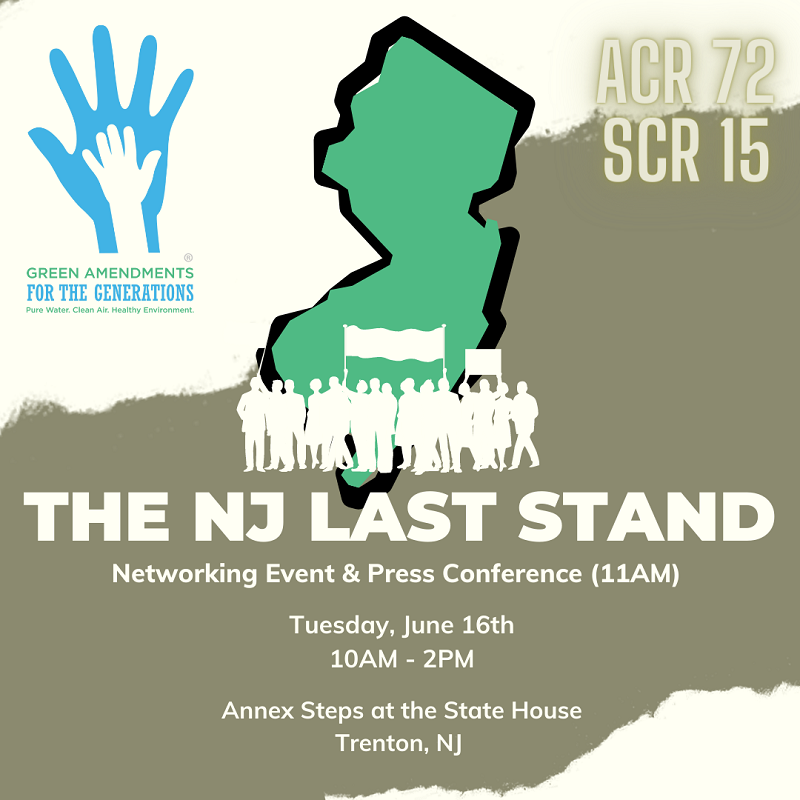 NJ Press Conference
June 16, 2022
11:00AM (EST)
Annex Steps at the State House (Trenton, NJ)
131-137 W State St, Trenton, NJ 08608
Show up alongside NJ activists, environmental justice leaders, and residents to demonstrate that the people of NJ want their voices heard and their environmental rights constitutionally recognized and protected. This is a chance to meet other passionate NJ residents and leaders at a Press Conference where people of all backgrounds and experiences will be giving statements about why the Green Amendment is needed in NJ. Register here!
---
NEWS ACROSS THE GREEN AMENDMENT
Delaware: Public Hearing for Clean Water and Air!
We finally have a hearing date and time in front of the House Administration Committee!
When: Wednesday, June 15th at 12PM (Noon)
Location: 411 Legislative Avenue, Dover, DE 19901
Two ways to help push the right for clean air and water forward in Delaware's hearing:
Attend the hearing! Even if you are not comfortable speaking publicly, please know that your presence at the event is powerful and needed. Please encourage others to attend; there truly is strength in numbers. For those who cannot attend the hearing in-person, stream the hearing here.
Provide spoken testimony for the hearing. Unfortunately, there are many who will be opposing the rights of Delawareans to clean air, water, and a healthy environment. As a result, we need YOUR VOICE. Please feel free to utilize the DE Green Amendment Talking Points (beneath Factsheets & Materials) and visit our Act Now page to support your testimony.

Oral comments are preferred and can be done in person or over the phone. These comments are limited to 2-minutes, and you must show up 15 minutes before the hearing to ensure that you have time to sign-up.
Iowa Beer: It Must Be the Water
On Iowa's legislative house floor, Rep Chuck Isenhart's presented an Earth Day resolution commemorating the 50th Anniversary of the Clean Water Act. Rep Isenhart's resolution made special mention of the Green Amendment's call to recognize the right to clean air and water for all people.​​​
Clean water is an essential ingredient of beer. To celebrate the 50th anniversary of the federal Clean Water Act, Iowa Green Amendment is sponsoring "Iowa Beer: It's All in the Water," a year-long promotion with Iowa craft breweries to celebrate and promote the importance of clean water!
Iowa breweries are supporting the Iowa Green Amendment by brewing special recipes using Iowa water and other ingredients. Proceeds of sales– through joint promotion by Iowa conservation and environmental organizations – will be used to match other grants received by Green Amendments for the Generations to support the Iowa Green Amendment campaign. Stay tuned for updates on our Iowa site!
---
UPCOMING EVENTS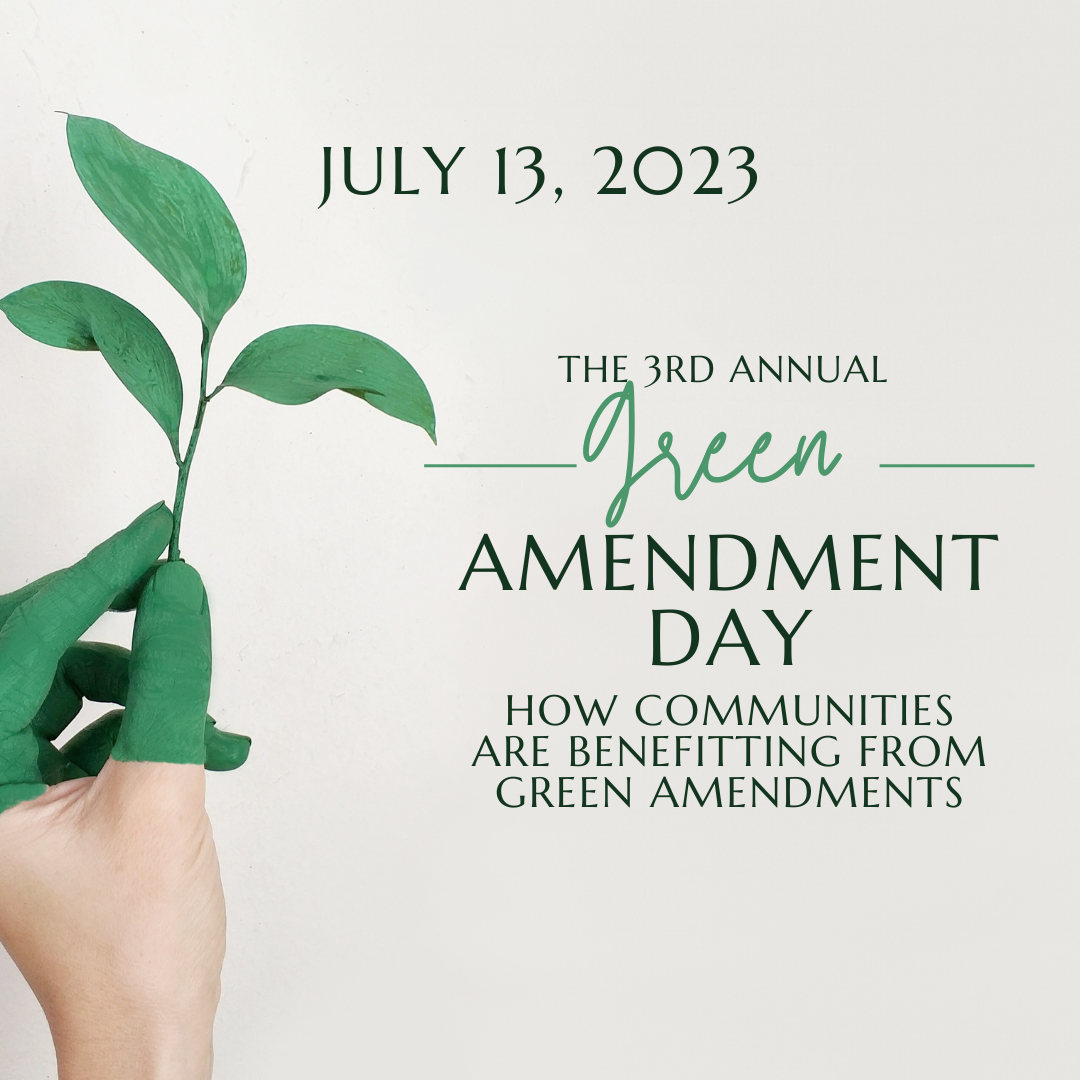 2022 Green Amendment Day! Register Here.
Transforming Environmental Rights: From Rhetoric to Reality
July 13th, 2022
The GAFTG team invites you to our 2nd Annual Green Amendment Day (virtual), "Green Amendments: Transforming Environmental Rights from Rhetoric to Reality"! REGISTER HERE!
On Wednesday, July 13th, we are hosting a full day of opportunity and collaboration as we dive into how Green Amendments serve as a viable constitutional pathway to environmental rights for all. Green Amendment Day will spotlight individuals' battles against toxic pollution, and virtual action opportunities to fight climate injustice, from unequal access to clean water, oil and gas industry exploitation, to sacrifice zones, and more.
Green Amendment Book Talk & Hike with the Brodhead Water Association
July 16, 2022
​​​10AM – 11AM (EST)
Brodhead Creek Heritage Center 1539 Cherry Lane Rd, East Stroudsburg, PA 18301
Join Maya and the GAFTG to learn about the Green Amendment movement on a national scale, followed by a short hike along the Brodhead Creek in East Stroudsburg! Pre-order your copy of the NEW edition of "The Green Amendment: The People's Fight for a Clean, Safe, and Healthy Environment" here!
---
HEADLINES
Green Amendment Would Add Healthy Environment to Constitutional Rights in Washington | KNKX Public Radio
ACLU of PA Settles with the City of Harrisburg…Allowing Climate Festival to Go Forward | ACLU Pennsylvania
Why the Delaware Green Amendment Matters to You | Cape Gazette