Green Amendment Headlines
The Green Amendment Movement is catching the attention of the press!
E&E News: Environmental Rights Push Could Boost Youth Climate Cases (National)
National Journal: Anti-fracking Activists Eye State Constitutions (National)
NM Political Report: Green Amendment Proposal Passes First Committee (New Mexico)
Las Cruces Sun News: Right to Clean Air, Water and Land: A Green Amendment for the Generations (New Mexico)
The Legislative Gazette: "Green Amendment" to State Constitution will be in Voters' Hands this November (New York)
Eugene Weekly: How Green Is Your Constitution? (Oregon)
PressWire: Lekanoff Introduces the Washington Green Amendment (Washington)
Wicasset Newspaper: Letter to the Editor: Support Maxmin's Amendment (Maine)

Spotlight Story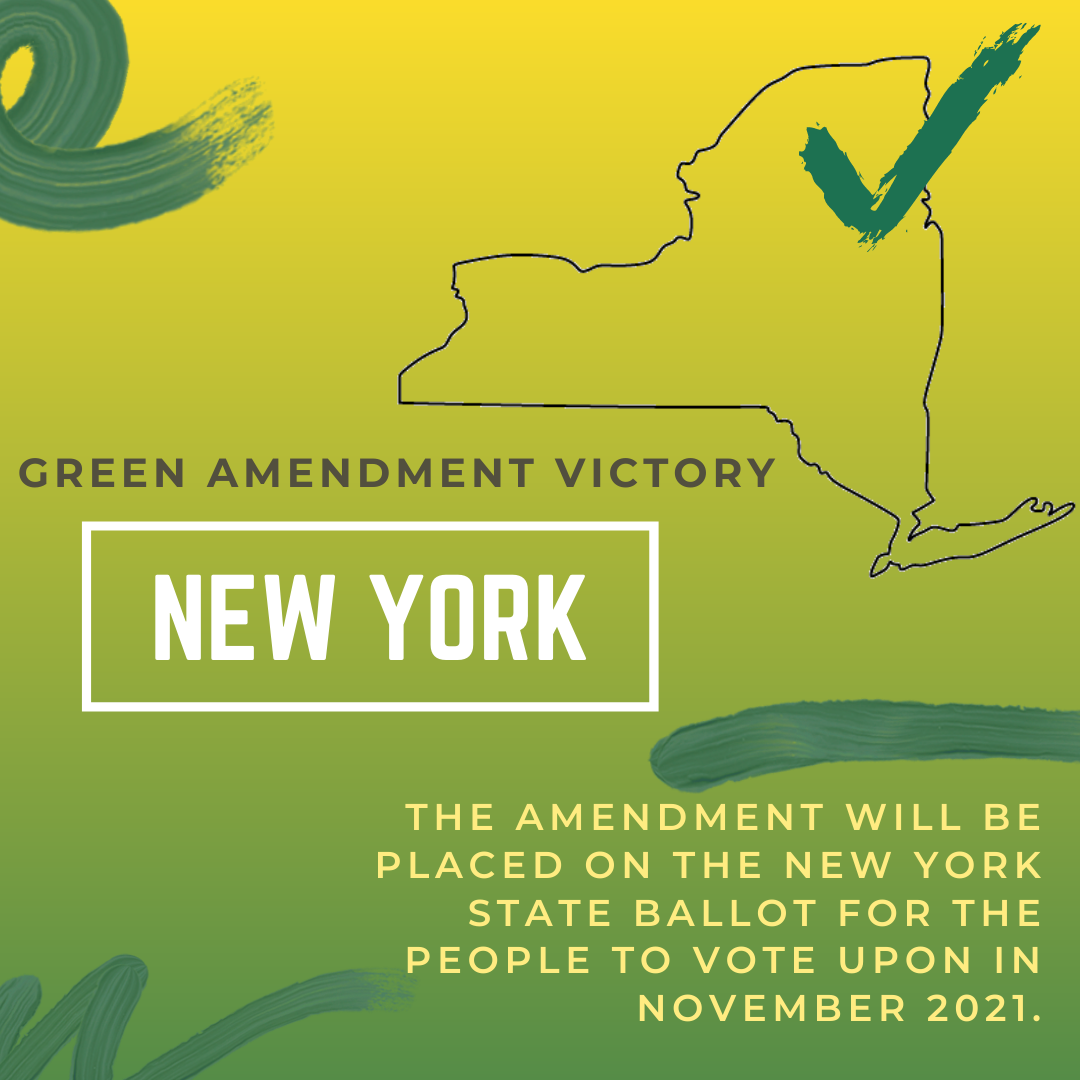 On February 9, 2021 the New York State Assembly joined their Senate colleagues voted 124-25 for second passage to add a Green Amendment (A.1368/S.528) to the state constitution. The NYS Senate voted 48-14 for second passage in January. The amendment has now passed both houses of the Legislature during two consecutive sessions, and will be placed on the New York state ballot for the people to vote upon in November 2021. The amendment is sponsored by Assembly Environmental Conservation Committee Chair Steve Englebright and Senator Robert Jackson.
New York is leading the national Green Amendment movement as the first state since 1971 to pass an amendment through the Legislature that would constitutionally and equitably protect the environmental rights of all people, including future generations. If approved by voters, New York will become the third state to align environmental rights with political and civil liberties, such as freedom of speech and worship, joining Pennsylvania and Montana. Now, the people have the power to codify their rights to breathe clean air and drink clean water at the highest level of protection.
News from Across the Green Amendment Movement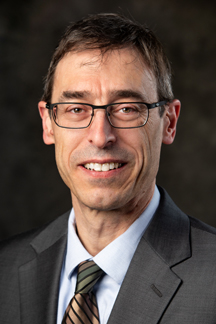 On February 11, 2021, Delegate Evan Hansen (District 50) re-introduced the Green Amendment in West Virginia, HJR 12, joined by co-sponsors: Del. Barbara Fleishauer, Del. John Doyle, Del. Kayla Young, Del. Danielle Walker, Del. John Williams, Del. Mike Pushkin, and Del. Jim Barach. The amendment has been referred to the House Agriculture and Natural Resources Committee followed by the House Judiciary Committee.
GAFTG, with the help of Maine partners and activists, launched a Maine specific leadership training program called, Getting Up to Speed to Lead. 40 volunteers from across the state participated, eager to learn about the environmental justice benefits of a Green Amendment and how to give testimony for last Monday's hearing on the Pine Tree Amendment.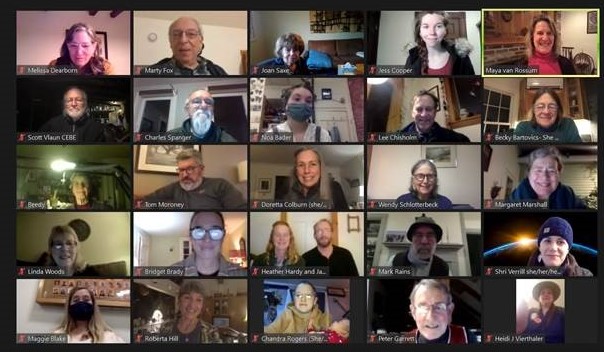 On February 17, Senator Chloe Maxmin (District 13) proposed the Maine Green Amendment, referred to as the Pine Tree Amendment (LD 489) alongside cosponsors: Senator Richard Bennett, Rep. H. Landry, Rep. Margaret O'Neil, Rep. Laurie Osher, Rep. William Pluecker, and Rep. Rachel Talbot Ross. The Amendment was referred to the Committee on Environment and Natural Resources, which heard the bill on Monday March 8th, with testimony from over 25 people in support.
GAFTG continues to work with passionate New Jersey youth on Green Amendment education and advocacy. Student leaders from Bye Bye Plastic Bags New Jersey hosted a webinar to educate 8 legislators and staff on the importance of supporting the NJ Green Amendment. New Jersey Student Sustainability Coalition leader, Margaret Berei, created a short video piece titled, What is a Green Amendment? Berei and co-leader Svanfridur Mura hosted a two-part training for students to learn about the Green Amendment and how they can help.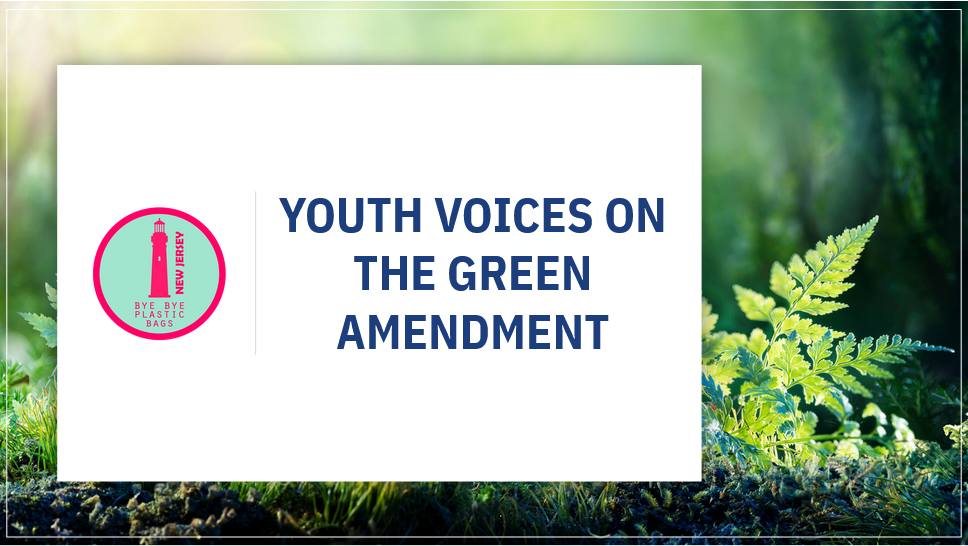 GAFTG launched a new, standalone website for New Jersey found at www.NJGreenAmendment.org, and we are in the process of making similar upgrades for additional states that have active movements. Stay tuned – your state could be next!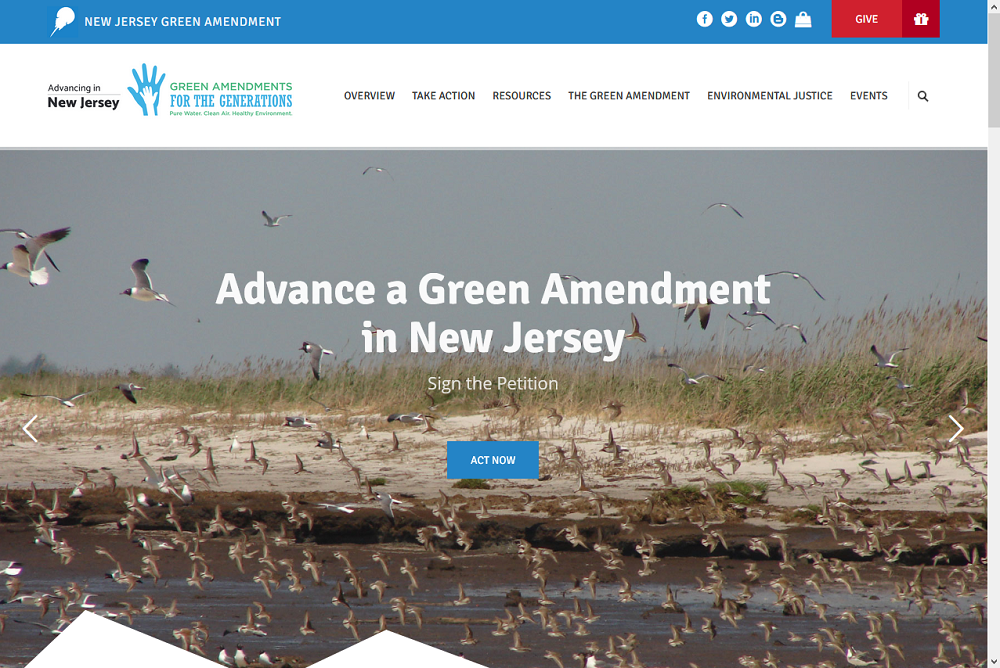 Pennsylvania's Parks & Forests Foundation (PPFF) is hosting a Song Contest in honor of the 50th anniversary of PA's Environmental Rights Amendment or Green Amendment.The contest is free to enter and open to PA artists of all ages and music genres.The song that best expresses what the environment and amendment means to the artist will win a grand prize of $250. The top youth entry (songwriters under the age of 18) will win a prize of $100. The winning songwriters will be invited to perform at a PPFF event later this year. Songs will be shared through their digital platforms, as well. Song submissions must be two to three minutes in length and submitted in a digital format. PPFF is accepting song submissions now through August 1, 2021.

Upcoming Events
Join Green Amendments For The Generations and the Delaware Riverkeeper Network for the Spring 2021 Virtual Canoe Race, starting April 12. VCR is an online education tool that offers information and activities on watershed geography, history and science in a trivia contest format for upper elementary and middle school classrooms and individuals. Registration is open for both our free, abbreviated Spring Race and low-cost, 6 week, Fall Race. Visit our website to learn more.
Unitarian Universalists for a Just Economic Community
March 11, 8:00pm EST
Morristown Unitarian Fellowship, NJ
March 25, 7:00pm EST
Unitarian Church of Somerville, NJ
March 30, 7:15pm EST