SPOTLIGHT
Green Amendment Youth Steering Committee Member Given Emerging Environmental Leader Award by Governor Murphy
Awarded each year to individuals and organizations who demonstrate leadership and commitment on a range of environmental issues, including environmental justice, climate change, and protection of natural resources, Svanfridur Mura was given the James J. Florio Emerging Environmental Leader Award at the 23rd Annual Governor's Environmental Excellence Awards. Svan was recognized for her many good works, including serving as the co-chair of the New Jersey Student Sustainability Coalition (NJSSC) and a lead coordinator in NJSSC's campaign to secure a New Jersey Green Amendment. Svan was also recognized for her leadership in addressing issues around the climate, composting, environmental education, and issues of open space protection.
---
NEWS FROM ACROSS THE MOVEMENT
Utilizing the power of video and storytelling, Florida delivered a powerful message on why the state needs its proposed Right to Clean Water: Florida is the one state where the Green Amendment is advancing entirely by people power. Using the process of citizen initiative, partners and supporters from all over the state are working hard to gather the hundreds of thousands of signatures needed to advance the FL Right To Clean Water constitutional amendment (their version of a Green Amendment). This chosen pathway has a lot to do with the politics of Florida, but is also because the state has a different and very structured set of rules that guide the constitutional amendment process. As a result of the single subject rule, Florida leaders had to pick one aspect of the environment to focus on as their lens of protection, and they picked water. The campaign has 9 months to collect 900,000 signatures, and they are making powerful progress.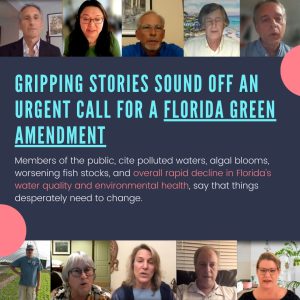 On March 2, 2023, 10 speakers from across the state, representing the interests of some of the largest economic engines of Florida, converged in a united, resonating message: Florida needs a fundamental right to clean and healthy waters. Watch the virtual press event, along with other informative videos on our YouTube channel.
"The use of the Indian River Lagoon as a toilet has killed the lagoon and the creatures that call it home, including manatees, Florida's iconic marine mammal. Sadly, the same thing is happening all over our state…if we snuff the life from Florida's waterways and they become unsafe for recreation, we will kill tourism, Florida's most important industry, not to mention ruining the quality of life for those who live here," offered Laurilee Thompson, one of the Florida Right To Clean Water supporters. Blair Wickstrom, senior editor for FloridaSportsman.com wrote in more detail about the negative impacts of pollution to Florida's tourism economy. You can read the article here.
Florida Right to Clean Water champions have inspired an impressive array of partners, and you can view them all here.
Advocates from across the state joined together at the New Jersey Statehouse on February 27 for a Legislator Education Day focused on the Green Amendment. Special thanks to the New Jersey Student Sustainability Coalition, Climate Reality Project, and Tri-County Sustainability for your partnership and efforts to provide information to legislators.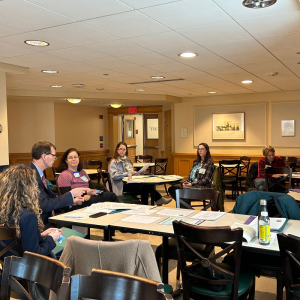 New Jersey partners convene in the Statehouse
Hawaii Green Amendment Made Great Progress in 2023 Legislative Session: While the Hawaii Green Amendment did not advance all the way through the legislative process, the foundation towards success continued to build. Senator Mike Gabbard and Representative Amy Perrusso were the lead legislative champions of the amendment, but they were also joined in support by legislators: Amato, Cochran, Ganaden, Gates, Hussey-Burdick, Lowen, Marten, Martinez, Poepoe, Tam, Woodson, Chun, and Chang, in addition to Sen. Rhoads who was a true champion of the Green Amendment during a senate hearing, where he so eloquently called out the Attorney General for their opposition.
Grassroots support also grew, under the leadership of 350 Hawaii and Our Revolution Hawaii, and now includes 15 organizations.
FOUR MORE STATES HAVE JOINED THE MOVEMENT!
In early 2023, Texas, Nevada, Connecticut and Tennessee all proposed Green Amendments. This brings our current active state count to 15! We're already seeing great progress in each state and look forward to working with the legislative champions and grassroots leaders.
We're grateful that legislators see the power in this transformational approach to environmental protection and recognize their leadership:
Representative Mary Mushinsky (Connecticut)
Assemblywoman Sarah Peters, who has now been joined by Assemblyman Howard Watts & Assemblywoman Clara Thomas; as well as Senators Fabian Donate & Melanie Scheible (Nevada)
Representative Justin Jones (Tennessee)
Representative Vikki Goodwin (Texas)
We also recognize the amazing grassroots partners in each state, which are too numerous to list here, but you can find on each state's website (CT, NV, TN, TX). GAFTG traveled to Nevada to support our partners during a press conference announcing the Green Amendment proposal, and later participated via zoom during the first Green Amendment hearing before the Assembly Committee on Legislative Operations and Elections. Compelling voices from environmental justice, Indigenous, environmental protection, faith and social justice organizations of all kinds came out to speak in support. Industry came out repeating misinformation and sky-is-falling hypotheticals but could not outshine the passion and compelling advocacy of the grassroots, Nevada Environmental Justice Coalition members and our legislative champion Assemblywoman Sarah Peters. You can watch the hearing here.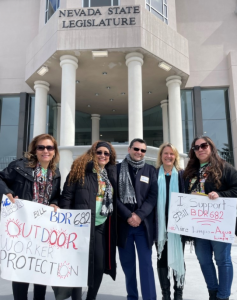 Maya van Rossum and Nevada partners
Spanning a range of differing missions, we are seeing more and more organizations and coalitions selecting support for the Green Amendment as a priority, recognizing the value that Green Amendments provide for environmental protection, environmental justice and work to defend democracy. Among them so far in 2023, we saw prioritization by:
---
UPCOMING EVENTS
Follow us on Facebook to stay updated on events across the nation!
Schedule an event with Maya here.
Tuesday, March 28 at 7:00pm EDT
Passing the Green Amendment: A Discussion with Maya van Rossum, Founder of the Green Amendment Movement, hosted by PA League of Women Voters
Register Here!
Tuesday, April 4 at 6:00pm EDT
Delaware Green Amendment discussion featuring Rep. Madinah Wilson-Anton, sponsor of the DE Green Amendment, Rep. Kerri Evelyn Harris, DE Representative, organizer and activist, and Maya van Rossum, in collaboration with Browseabout Books, followed by book signing.
Lewes Public Library, 111 Adams Ave, Lewes, DE. Virtual option available. Register Here!
Wednesday, April 5 at 12:00pm EDT
Mercer County Community College Distinguished Lecture Series featuring Maya van Rossum.
Mercer County Community College, Room CM108 (Communications Building), 1200 Old Trenton Road, West Windsor, NJ
Friday, April 14 at 7:00pm EDT
Keynote Presentation: Docs Equinox "All in for the Aquifer" Environmental Film Festival, co-hosted by Hamptons Doc Fest and Southampton Arts Center.
Southampton Arts Center, 25 Jobs Ln, Southampton, NY. Tickets are required. Purchase here!
Monday, April 17 at 4:15pm EDT
Discussion with Maya van Rossum hosted by Levitt Center at Hamilton College.
Hamilton College, 198 College Hill Rd, Clinton, NY
For more up to date information on our events, please visit https://forthegenerations.org/events/