GEARING UP FOR 2024
Leadership Trainings, Info Sessions, and Other Ways to Get Engaged in the Movement
As 2024 approaches, Green Amendment activities are kicking into high gear! Sharpen your Green Amendment advocacy skills and help us push the movement forward during this critical time.
Check out our upcoming virtual programs and trainings below to get up to speed on what's happening in your state and get the tools you need to be a Green Amendment leader. New to the movement? All are welcome!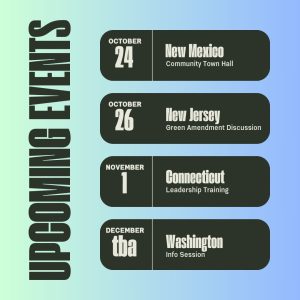 SPOTLIGHT
Key Engagement Opportunities Coming Up for New Mexico, New Jersey, Connecticut, and Washington
Tuesday, October 24 at 6:00pm MDT
New Mexico Green Amendment Community Town Hall
Legislative champions and leaders continue to recognize the transformational change a Green Amendment will bring to New Mexicans, our environment and future generations.To be among the first to learn about the 2024 Green Amendment proposal, join New Mexico's legislative champions for a 1 hour zoominar.
Register here: https://bit.ly/NMtownhall_Oct
Thursday, October 26 at 7:00pm EDT
New Jersey Green Amendment Discussion hosted by Unitarian Universalist Church at Washington Crossing (UUCWC)
268 Washington Crossing-Pennington Rd
Titusville, NJ
Wednesday, November 1 at 4:00pm EDT
Connecticut's Green Amendment – Getting up to Speed to Lead Training: Part 1
Learn how you can educate your friends, neighbors, family, and elected leaders on why we need the Connecticut Environmental Rights Amendment – aka Connecticut's Green Amendment.
In this 1 hour zoominar, you will build confidence in how to speak about the CTERA – aka CT Green Amendment – so you can become an active educator and leader in this historic effort to secure constitutional protection of our environmental rights.
If you want to invest a little extra time; the session will include an additional half hour where individuals can practice answering some of the frequently asked questions discussed in the first hour, or where you can share your 2 minute elevator pitch on how and why the CTERA is needed in Connecticut.
Register here: https://bit.ly/CTtrainingPt1
December – (Save the Date)
The Washington Green Amendment: How It Works & How It Will Help
Join us to learn how Washington's Green Amendment can help provide essential protections to address the climate crisis, environmental justice & environmental preservation. In this 1 hour zoominar, you will learn from the national expert and local leaders:
How the proposed language lifts up environmental protection in our state;
How the amendment will help with real-time Washington environmental challenges;
How amendments of this kind have secured essential protections in the 3 states that have them; and
How you can build community awareness, and interest of legislators, about this essential pathway for environmental protection.
Register here: https://bit.ly/WAGreenAmendmentInfoSession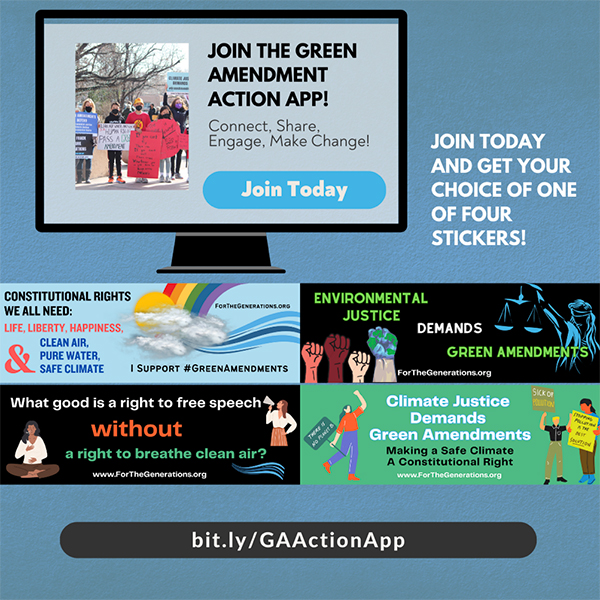 Be the first to learn about action opportunities, hearings, news, and more regarding the national Green Amendment movement, as well as the movement advancing in your state, by joining the free Green Amendment Action App. You can sign up for the national movement, your state if there is an active effort, or both to be fully in the circle.Sign up here! Or search your app store for Green Amendments FTG to download the app.
2022 Annual Report Now Available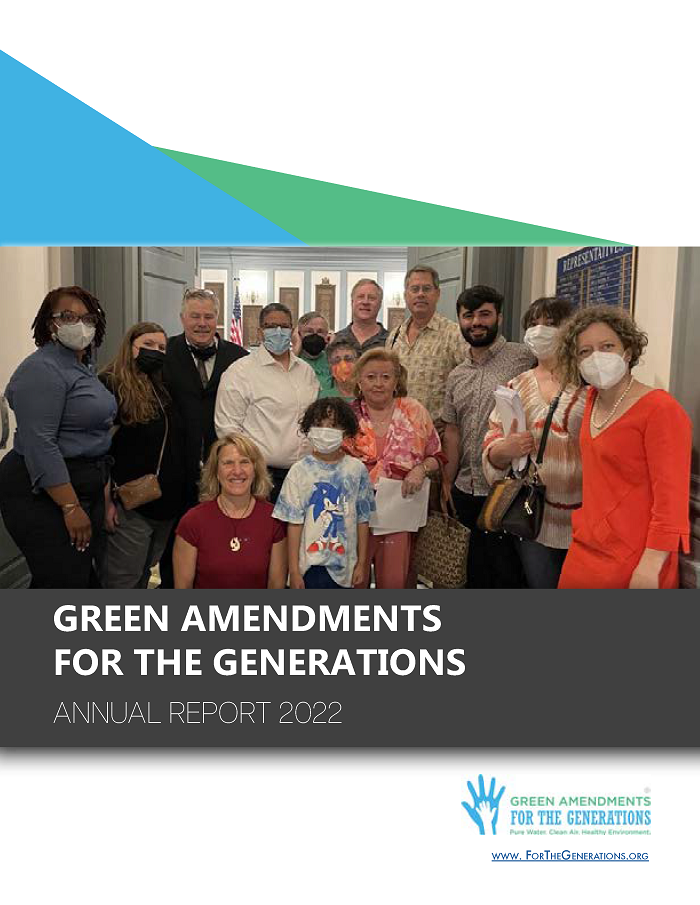 2022 was a big year for the Green Amendment movement – although we have to admit, 2023 is turning into an even bigger year. To see how the movement grew and expanded in 2022, our Annual Report is up and ready for your review. Click here to see all that happened in just one year, and get excited, because you are part of even bigger growth we saw in 2023.If you read nothing else, check out the letter from our founder, Maya van Rossum, to see how the threads of the Green Amendment movement came together with developments on the national legal and political scene!Your Support is Crucial to the Movement's ProgressThe philanthropic community is coming up short in providing the resources needed to respond to requests for Green Amendments For The Generations' support. At the same time, industry opposition is rapidly growing. Our organization is uniquely positioned to take them on – but to do so takes resources and legal expertise.We really need your help to spread the word and ask those in your circle to please donate whatever they can. Large or small, every donation helps. If you're not in a position to contribute financially, sharing the link below is a free way to help us get the resources we need. Thank you for being part of this transformational movement.